Get you exercises ideas ready to our Community Competitions
Hello,
Do you like to think about new ideas for programming exercises? Have you see a real-life situation and thought, "I bet I turn this into a programming exercise". Your time has come. We are launching the Community Competitions here at Neps.
How does it works?
You can create a new programming exercise using our create programming exercise tool. Then, you write an email telling us that you want this exercise to be part of a future Community Competition. We will select the best ones to include in the next competition.
The competition will be hosted on Neps and appear on the competitions page where everyone can join and participate.
Rules
Your programming exercise need to have PRIVATE visibility. So others can not see it until the competition.
When your exercise is ready, submit the expected solution. We will check for the last Accepted solution.
Your exercise needs to be written in English or Portuguese (we will translate it for you).
You are not allowed to participate in a competition where one of your exercises was selected.
Write an email to contest.nepsacademy@gmail.com with the following information:

Exercise ID
Exercise Link
Overall difficulty (easy, medium or hard)

The visibility of your programming exercise will automatically change after the competition happens. It will become available to all users and appear on the exercises page.
PS: If you are already an experienced problem setter (a person that create programming exercises), we ask you to check the subjects page and choose a subject for your programming exercise that is not covered by previous exercises.
How do I create an exercise?
On the create programming exercise page, you will find all relevant information by clicking on Tutorial (Figure 1). However, if you still have problems get in touch on our Discord server; we will answer all your doubts there!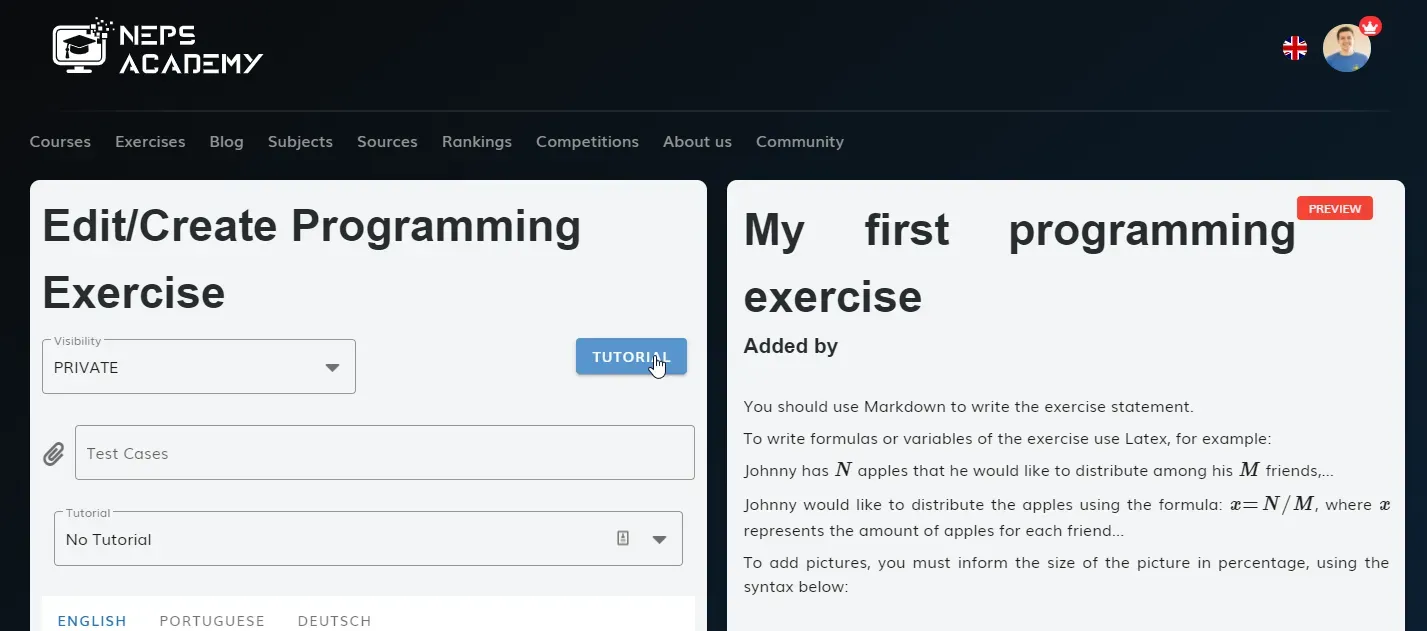 When the first Community Competition will happen?
As soon we have enough programming exercises, we will announce the date for our first competition. Get your fingers ready to write code!
We will be wanting your amazing exercises ideas. Thanks!
---
Update: We are still going to host Official Programming Competitions (created by our team). The Community Competitions will be hosted in addition to that.